WATER FOR ALL, ALL FOR WATER — AN ARTS FESTIVAL FOR WASH IN NEW DELHI, INDIA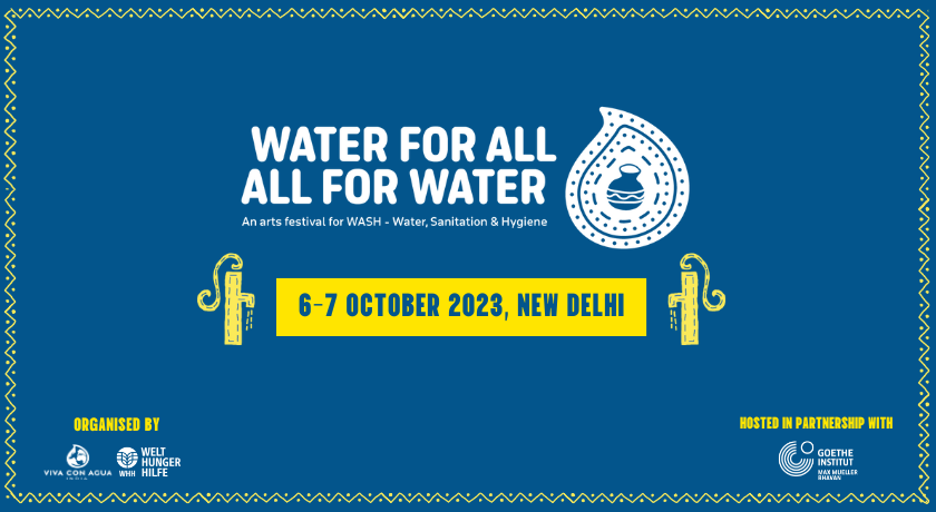 Join us for the two-day festival of art, music, dialogue, and empowerment to achieve the mission of Water for All!
October 6-7, 2023 – Goethe-Institut/Max Mueller Bhavan, New Delhi
Join us for the "Water for All, All for Water" – An arts festival for WASH – water, sanitation, and hygiene, set to unfold on October 6-7, 2023, at the Goethe-Institut/Max Mueller Bhavan, New Delhi.
The festival, being organised by noted German NGOs Viva con Agua and Welthungerhilfe and hosted in partnership with Goethe-Institut/Max Mueller Bhavan, New Delhi, focuses on the critical role of water in supporting human life and development through various joyful programmes. It marks the beginning of the Indian chapter of the Viva con Agua's iconic 'Art Creates Water Festival,' famously known as the Millerntor Gallery in Hamburg, Germany.
The festival brings together a community of changemakers, climate activists, conservationists, environmentalists, policy leaders, behavioural change experts, thinkers, and creative practitioners, including children, youth and adults from across India and internationally.
The festival will be officially opened with keynote speeches from Dr. H.E Philipp Ackermann, German Ambassador to India and Bhutant, Dr. Marla Stukenberg, Regional Director South Asia, Goethe-Institut/MaxMueller Bhavan, Ms. Nivedita Varshneya, Country Director, Welthungerhilfe India and Ms. Sophie Mehner, Programme Directress, Viva con Agua ARTS gGmbH.
The first conversation with Waterman of India Rajendra Singh, Ramon Magsaysay Awardee & Founder of Tarun Bharat Sangh, Sanjay Singh, Water Conservationist and Secretary of Parmarth Samaj Sevi Sansthan and Yogesh Kumar, Executive Director of Samarthan-Centre for Development Support will set the tone for the rest of the evening. Just like Hamburg Millerntorgallery Festival, this edition in India aims to unite everyone for the cause of water using the universal language of arts.
The Exhibition, 'Jal Jeevan' features Welthungerhilfe India and Viva con Agua's WASH initiatives in India with partner non-profits. Award winning community workers will present their work on the ground, bringing alive the documentation that is being presented.
The visual art section will feature portrayals of water from across India and internationally, by – Artreach, Aashti Miller, Anpu Varkey, Anuj Medhavi, Ayush Mishra, Krishna Chari, Krishna Nayak, Mari Pavanelli, Nalini Balakumar, Namrata Kumar, Christine Brey, Josephine Sagna, Nila Nandi, Ribhu Chaterjee, Sourav Karmakar, Sudiksha Singh Rathore, TONA, and Yogesh Rana.
The programme partners, each of whom are well established in creating social change through the arts, include; Aagaaz Theatre Trust, Artreach, Katkatha Puppet Arts Trust, One Drop Foundation and The Community Library Network. Also bringing in a collective 'Voice for Change' is The Social House with a medley of stories, poetry, and comedy.
The two-day festival will end with BBoying & Rap by members of Khirki17; Folk Songs from Jharkhand by Megha Sriram Dalton; and the closing act by singer and musician Ditty and Keno – 'Rain is Coming' – a sonic trip which follows the water conservation movements in north India – the creeks and crowds, the chants of activists and creatures…
Hosted at a venue that is home to culture, literature, thinking and learning for decades; the festival aims to bring together art, books, conversations, dance, food, music, poetry, puppetry and theatre, taking place across multiple spaces in the two days.
Know more and download the festival program here.
See you there!
GET INVOLVED FOR A WATER-WISE WORLD
Are you looking for a meaningful way to give back to your community? Viva Con Agua India is seeking dedicated volunteers to join us in our mission to create sustainable change in the lives of people. By volunteering your time, you can help us make a real difference in the world. As a volunteer, you'll have the opportunity to participate in a variety of programs, from organizing events to supporting our talented team of professionals.
Ready to make a difference? Be sure to fill in your details in the form below.
Who we are
Viva con Agua (VcA) is an all-profit organization (no profit sounds so joyless) which promotes access to clean drinking water, sanitation and hygiene across the world. We are a meaningful community that positively changes the world by relying on activism and use of universal languages of music, sports and art. Viva con Agua is supported by over 10000 volunteers who are united by a common vision: All for Water, Water for All and actively engaged for social change and support clean drinking water through creative actions in Germany, Switzerland, Austria and Netherlands.
Viva con Agua India
Viva con Agua along with its partners Welthungerhilfe, Parmarth Samaj Sevi Sansthan, Samarthan-Centre for Development Support & Ghoghardiha Prakhand Swarajya Vikas Sangh (GPSVS) has been working in India for over a decade through its various innovative programmes. One of the major programmes was water rights initiatives which focused on repairing, rebuilding and rejuvenation of traditional water sources like ponds, lakes and rivers as well as various other rainwater harvesting structures. It led to water security in many villages due to increased level of underground water through rainwater harvesting.
The other programme benefitted over 25000 people in 500 families in Bihar & Bundelkhand region received a tool to purify water of biological contamination through solar energy using an easy to use and low-cost machine- WADI. Now they are living a healthy and improved lifestyle.
However, Viva con Agua's unique Universal Language for Behaviour Change Programme or ULA4BC was launched in India only in 2022 in the severely drought affected Bundelkhand region. As part of this programme, football, music & arts are being used to encourage vulnerable communities, especially children to adopt safe drinking water and sanitation practices.
Currently in rural & remote tribal areas, we are holding weekly Football4WASH sessions in 16 schools where using football as an instrument, children are being made aware of the importance of safe water, sanitation, and hygiene practices. Similarly, we have other programmes like ART4WASH & Music4WASH to encourage vulnerable communities for sustainable WASH behaviour for their health and livelihood as well as to help India meet its 2030 Sustainable Development Goals (SDGs).
Our partners
Welthungerhilfe (WHH) is one of Germany's largest private aid agencies. In South Asia, over the past 55 years, WHH has supported over 1500 rural development projects through local partner organizations contributing towards combating poverty, hunger, and malnutrition. WHH's approach is to work as partners and support local organizations in improving living conditions of vulnerable people in a sustainable way.








Festival Team
Aparna Lall
Ela Gupta
Mary Therese Kurkalang
Aastha Soni
Anna Sirei
Shreya Patel
Pratyusha Barua
Kavya Khanna
CONNECT WITH US – a.lall@vivaconagua.org